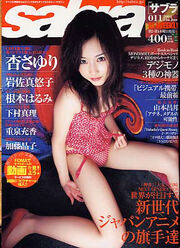 Sabra (サブラ, sabura?) is a Japanese biweekly gravure magazine that was published from May 2000 to March 2010. It contained photos of beautiful Japanese models, as well as articles geared towards young men. Starting with March 2010, only special editions remain published.
Relation to Metal Gear
The 2004 Issue 011 release for Sabra was utilized as the cover for the Book weapon in Metal Gear Solid 3: Snake Eater. Although it was replaced with a copy of Hooter's Magazine in the 3DS port, the Sabra magazine itself made a brief appearance in the game during an optional conversation with EVA.
External links
Ad blocker interference detected!
Wikia is a free-to-use site that makes money from advertising. We have a modified experience for viewers using ad blockers

Wikia is not accessible if you've made further modifications. Remove the custom ad blocker rule(s) and the page will load as expected.