Shadow Moses was a fan-made remake of the original Metal Gear Solid in development that would have used the Unreal Engine 4. Although David Hayter was initially sought out to reprise his role as Solid Snake, a stand-in was chosen instead. The game was purposely made to emulate the original's overhead "cinematic" camera, rather than the over-the-shoulder system used in Metal Gear Solid 4: Guns of the Patriots and Metal Gear Solid V: The Phantom Pain.
On March 4, 2016, it was announced that the project was cancelled due to complications that were "out of [the creator's] control."[1][2]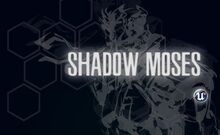 Gallery
References
External links
Ad blocker interference detected!
Wikia is a free-to-use site that makes money from advertising. We have a modified experience for viewers using ad blockers

Wikia is not accessible if you've made further modifications. Remove the custom ad blocker rule(s) and the page will load as expected.