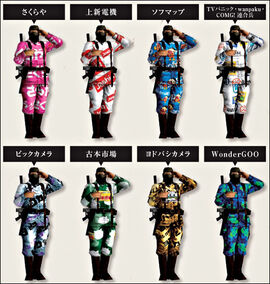 A special camo soldier (特殊兵士, tokubetsu heishi?, "special soldier") in Metal Gear Solid: Portable Ops (MPO) and Metal Gear Solid: Portable Ops Plus (MPO+) refers to any playable character who was available as a download through a promotional event, usually by using the in-game AP Scout feature in participating Wi-Fi hotspots or by inputting a password. Similar to the unique character Gako, these are all Soviet soldiers dressed in special camouflage clothing in lieu of their traditional yellow uniforms. Unlike Gako, however, they aren't considered unique characters and are removed from the player's unit if they're killed. With the exception of the Hidechan Radio and Two-Han Princess soldiers, all special camo soldiers were exclusive to the Japanese versions of the games. Special camo soldiers are not counted in the player's soldier list in either the Japanese or American versions of Portable Ops Plus.
List of special camo soldiers
Featured in Portable Ops
Retailer soldiers

For the Japanese version of the original Portable Ops, eight retailers (Yodobashi, TV Panic/Wanpaku/COMG!, Sofmap, Sakuraya, Furuhon Ichiba, WonderGOO, Joshin Denki and Bic Camera) each offered their own special camo soldier. Players could download these soldiers by bringing in their PSP consoles to participating locations and using the in-game AP Scout feature to unlock them. These eight camo soldiers were not officially available in the North American version, but were kept in the game's data and could still be used through hacking. The retailer camo soldiers were brought back in Portable Ops Plus with the exception of the Joshin soldier, since Joshin Denki were not involved in this second campaign (unlike the other special soldiers, the Joshin soldier cannot be recruited with a password in Portable Ops Plus). They can also be recruited via passcode in the latter game.[1]
Featured in Portable Ops Plus
GEO soldier

Famitsu soldier

Dengeki PlayStation soldier

Arms Magazine soldier

Mahjong Fight Club soldier

Quiz Magic Academy soldier

NTT East soldier

NTT West soldier

Two-Han Princess soldier

Hidechan Radio soldier

Championship soldier
Portable Ops Plus passwords
Japanese version
Sofmap soldier -  WSUZYJGGJJTY
GEO soldier - XHMUDPFBZHZB
WonderGoo soldier - UPWGTNFVUJXO
Bic Camera Soldier - XNLMIHVCP
Yodohashi Camera soldier - PWSJJJWYRQT
Sakuraya soldier - SUCRZUKNMPAP
Furuhon Ichiba soldier - XFEUOVZDC
TV Panic/Wanpaku/COMG! soldier - KMGOMGYYBF
Famitsu soldier - ZKUJZUYXJUH
Dengeki PlayStation soldier - YLFSSVBCDLGO
Unlock Arms soldier - TTOGZWSREYD
NTT East soldier - OLUKOKSSFG
NTT West soldier - IUHYUYOSM
Quiz Magic Academy soldier - NEFGBSJWLIDY
Mahjong Fight Club soldier - XABEFPHPE
Two-Han Princess soldier IHBKUHDTQC
Hidechan Radio soldier - RGBWJVHRO
Championship soldier - ULOUFHSPJAN
North American version
Hidechan soldier - RU8XRCLPUUT
Two-Han Princess soldier - A9KK7WYWVCV
Gallery
Featured in Portable Ops
Featured in Portable Ops Plus
Notes and references
External links (in Japanese)
See also
Ad blocker interference detected!
Wikia is a free-to-use site that makes money from advertising. We have a modified experience for viewers using ad blockers

Wikia is not accessible if you've made further modifications. Remove the custom ad blocker rule(s) and the page will load as expected.