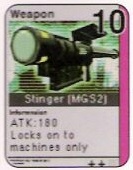 The Stinger (MGS2) is a weapon card featured in Metal Gear Acid.
Card details
Name: Stinger (MGS2)
Type: Weapon
Number: 204
Pack: MGS2
Cost: 10
Reality: ++
---
Missile: Anti-armor, USE type
ATK:180
Locks on to machines only.
---
A low-altitude surface-to-air missile that can be carried and fired by a single person. Equipped with a device that distinguishes between friend and foe. The infrared seeker on the tip of the missile allows it to attack its target from any direction.
See also