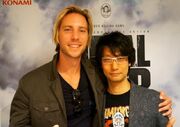 Troy Edward Baker (born April 1, 1976 in Dallas, Texas) is an American actor, voice actor, and musician who has worked with anime films, TV series, and video games. Baker provided the English voice of some of the Peace Sentinel soldiers in the English version of Metal Gear Solid: Peace Walker and the English voice and facial capture for Ocelot in Metal Gear Solid V: The Phantom Pain.
Some of Baker's other notable roles include voicing Snow Villiers in Final Fantasy XIII, Yuri Lowell in Tales of Vesperia, Kanji Tatsumi in Persona 4, Kai Leng in Mass Effect 3, Booker DeWitt in BioShock Infinite, Joel in The Last of Us, Talion in Shadow of Mordor, Robin (Tim Drake) in Batman: Arkham City, the Joker in Batman: Arkham Origins and Batman: Assault on Arkham, and Hawkeye in various Marvel cartoons and video games, as well as being both the English voice and motion capture actor for Jake Muller in Resident Evil 6.
Metal Gear works
Ad blocker interference detected!
Wikia is a free-to-use site that makes money from advertising. We have a modified experience for viewers using ad blockers

Wikia is not accessible if you've made further modifications. Remove the custom ad blocker rule(s) and the page will load as expected.