The current look for the wiki is a fairly bland. The background is pretty poorly made and the front page has a lot of wasted space. I think it's time that we updated the look, cleaned things up and gave the wiki the appearance it deserves. I've made a new background, logo and header for the wiki, as seen in the first image. It features the three playable characters on both the header and the background. I've also changed the logo to the most frequently used font in the series.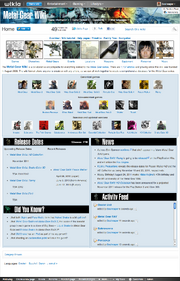 The new main page layout is more organized, has links to all the games, and updated buttons. Below the game navigation is the Release dates box and the news section. At the bottom is the Did You Know section and the Recent Activity. The RA is in a scroll box, that way the images that people add to pages wont distort the main page.
Ad blocker interference detected!
Wikia is a free-to-use site that makes money from advertising. We have a modified experience for viewers using ad blockers

Wikia is not accessible if you've made further modifications. Remove the custom ad blocker rule(s) and the page will load as expected.