Hi there!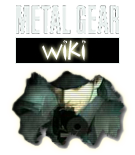 Welcome to the Metal Gear Wiki, and thank you for your contributions! There's a lot to do around here, so I hope you'll stay with us and make many more improvements.
Recent changes is a great first stop, because you can see what pages other people have been editing, and where you can help.
Questions? You can ask at the Help desk or on the "discussion" page associated with each article, or post a message on my talk page!
Need help? The Community Portal has an outline of the site, and pages to help you learn how to edit.
Please sign in every time you edit, so that we can recognise you!
I'm really happy to have you here, and look forward to contributing with you!
Hey there, I was just wondering if i could use the pic of the RS Humvee in the article I just made. It's pretty sweet. Magnum Opera04 00:20, 15 March 2009 (UTC)
HELLO
Hello fellow wikier--Noname the hero 23:01, 31 March 2009 (UTC)thumb|500px|right|asome song asome halo 3 players
Rebel soldiers affiliation.
Hi.
I noticed your comments on the South American rebel soldiers in the article's talk page. You seem knowledgeable about various South American guerilla groups, so I might as well ask this:
Can you identify the logo for the Rebel soldiers with any real life guerilla groups?
Regards,
Weedle McHairybug 16:22, June 22, 2012 (UTC)