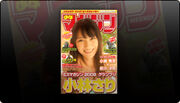 Weekly Shōnen Magazine, sometimes known in shorthand simply as Weekly Shōnen, is a Japanese weekly anthology magazine covering various manga and anime under the shōnen genre. It was first published on March 17, 1959. Although it generally covers manga and anime, it occasionally covers games as well. It celebrated its 50th anniversary in 2009. The magazine serves as the birthplace of hits such as Kyojin no Hoshi (Stars of the Giant), Ashita no Joe (Tomorrow's Joe) and Hajime no Ippo, as well as featuring titles in various genres (such as sports, romance, mystery and fantasy) that fill readers' hearts with burning excitement, along with topical humor and photos of beautiful gravure models. All of these elements provided overwhelming reading material unmatched by competing magazines.
Relationship to the Metal Gear series
Weekly Shōnen Magazine is featured as an actual magazine item in the Japanese version of Metal Gear Solid: Peace Walker, partly as part of a product placement gimmick conceptualized by series creator Hideo Kojima as a joke, and partly to cover the magazine's 50th anniversary back in 2009. Although based on a real magazine, the cover itself is completely fictional, with it featuring Sari Koboyashi, a Japanese model/actress. The magazine was replaced in the international versions with the Super Magazine. In the HD Edition, the cover was changed.[1] The same cover in the HD Edition also makes a cameo in Metal Gear Solid: Snake Eater 3D. The cover in question features the manga/anime series Fairy Tail, and to a lesser extent Metal Gear Solid: Rising, due to the mangaka of the series, Hiro Mashima, being a massive Metal Gear fan.
See also
Notes and references
Ad blocker interference detected!
Wikia is a free-to-use site that makes money from advertising. We have a modified experience for viewers using ad blockers

Wikia is not accessible if you've made further modifications. Remove the custom ad blocker rule(s) and the page will load as expected.